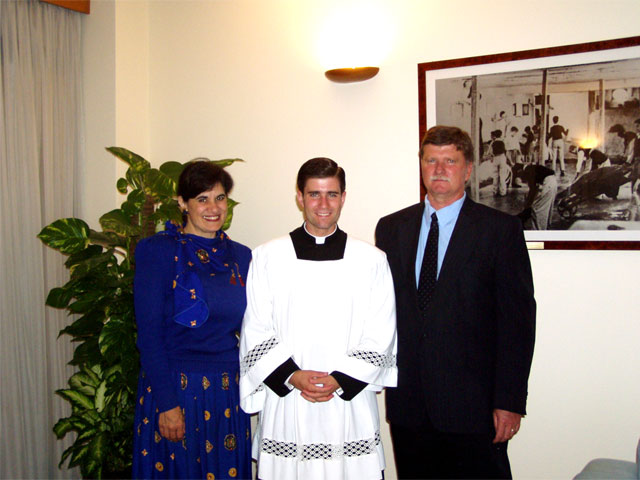 Dave and Carol Fisher with their son Br Nicholas Fisher LC
Fulton, NY -- Dave and Carol Fisher, both active members of Regnum Christi, have a partnership that goes beyond their loving marriage and raising their children to love Christ. Carol, a singer and composer, and Dave, a sound engineer, have collaborated on a multi-media evangelization project that has had them on Catholic radio in central New York for nine years and led to the production of seven music albums.
Carol´s family-oriented music is distributed by two well-known companies serving the Catholic home-schooling market, Seton Home Study School and Catholic Heritage Curricula. They are in the process of making their radio programs available to Catholic stations across the country. (For more information, visit www.carolfisher.com. The newest title available is a children's song about Saint Juan Diego and Our Lady of Guadalupe).
Dave and Carol´s life of faith is bearing the fruit of vocations for their children. Their son Nicholas is a seminarian with the Legionaries of Christ currently studying for an advanced philosophy degree in Rome. Their 15-year-old daughter, Mary Angela, is studying at Immaculate Conception Academy in Wakefield, RI, a special high school for young women interested in the consacrated life in Regnum Christi.
The Fishers ask your prayers of their family, particularly their children´s vocations and the continued growth of their media evangelization apostolate.