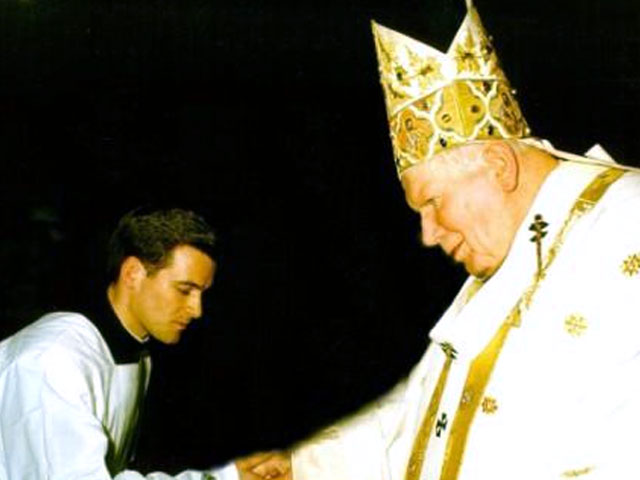 Michael Mullan with JPII Midnight Mass Christmas 2001
You could safely say I had one of those "cradle vocations." I was a naturally rambunctious, adventuresome and, my parents would be quick to add, troublesome kid. Yet it was all healthy. I am the third oldest of 10 children. For a while I was the only boy among six girls. My first prayer that I can remember is asking for a baby brother. God was listening and graciously gave me two.
We were a "normal" family, but at the same time special. From the outset my parents realized they were not taught how to educate us in a concrete way in the faith. Both were teachers, so they knew that just fielding questions does not count for any sort of proper education. So my Mom picked up a book full of practical activities to make the liturgical year come alive for the family. Being an artist, she made the activities fun and interesting (until we hit the teenager years when we would shrug these things off…). My Dad helped out with content, applying his gift for explaining complex things in a simple way, giving us Sunday Catechism to each one on our own. He also read us lives of the saints before we could read, filling our hearts and minds with a different sort and caliber of heroes.
The vocation then started from earliest years, in a somewhat humorous way. We Mullans did not have a television (I thank God for this gift). So we had many games, books and sports. Among these games, I played the priest at "Masses" with my siblings (as opposed to always playing "house"). As my later interest in acting would manifest, I was quick to pick up the idiosyncrasies of priests. My family tells me (I honestly can't remember) of a family trip to New Mexico when we encountered a particularly lively Norwegian priest whose practice it was to weave back and forth gripping the microphone, illustrating his homily with grand gestures. This was quickly added to my repertoire and has remained a family joke.
I remember well at age 10 the impact a young dynamic diocesan priest in the parish whose holiness and enthusiasm for his own vocation brought. He worked with boys in a fun and yet serious way that attracted us all. One day in the car, after going for pizza, I announced that I wanted to be a priest. However, in the middle school years these experiences were put on the back-burner. I changed schools, became active with theater, sports and friends. Oddly enough, religion remained throughout my favorite topic and I had a pride in the Catholic faith now that I mingled with people from many backgrounds.
By high school I wanted to be a physicist, having had a great science courses in those years. I took my first real physics class in 10th grade. I began looking for other interest areas. Religion was knocking at the door again.
In the spring of 10th grade everything changed. I had been trying to pray for some time, maybe for the first time as a teenager in a personal way. Since I didn't "feel" anything I announced to my Mom that God isn't really interested in us here below, nor is he real enough to be "heard". My Mom laughed and said "Well, have you prayed about that?" I retorted "Well, how can you pray if that's your problem?" She gave me a little novena, a popular devotion to pray over nine days for an intention which in this case asked for roses as a "sign" of the prayer being heard. I had nothing to lose.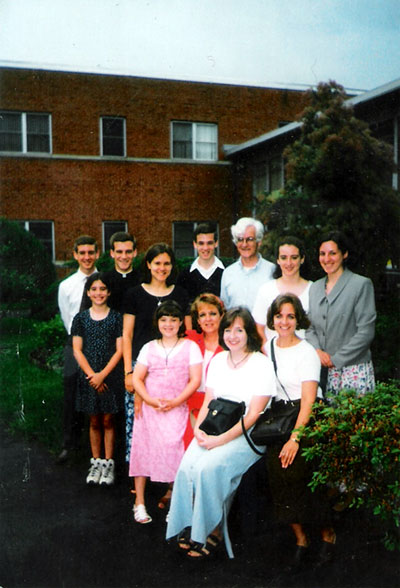 Family picture 1998
"God, are you there? And, second, are you listening?" These were those daring questions I placed to this silent God. Well, on the day when that sign was supposed to happen I had forgotten about it. My Mom had forgotten that I was even praying a novena (I only told her this story 10 years later). The family had left the house for shopping and when we came back, on the porch was a vase full of roses. Now there was one thing clear in my mind: We have never had roses delivered to my house. Sure enough, they were delivered to the wrong address. But that was my day for the sign. I made a bee-line for my room, knelt down beside the bed and cried, whispering, "God, you heard me."
Somehow that was what I needed to begin a new type of relationship with God. Now he was a friend who listened and I began to want to do something for him too. What had made me happiest in this world had always been God. Throughout my youth Jesus was that great friend I had. In the early teenage years I hadn't spoken as often with him, but he did not forget me. It was in this year I took up the idea again of the priesthood as a way to help others come to him too, a God who listens, a God who is active in our daily lives, interested in everything we do, and has a plan for each one of us. What my parents had always "educated" began to stand up on its own two feet.
During my junior year at high school we had a Career Awareness Program week. I wanted to have a "seminary" experience. Originally I tried going to a diocesan seminary but for some reason the phone call was never returned. We turned to the Legionaries of Christ since I had been on a fun boy's trip in middle school. It was there that I really discovered my priestly vocation. The enthusiasm and optimism of the congregation's youthful "legions" completely transformed me. I worked that summer at one of their boy's camps and that is when I realized this was exactly what I was looking for. I had a mission now and lived my faith actively in the last year at high school. I left for Cheshire, Connecticut, the Legion's novitiate, the day after high school graduation and my family was very supportive. Since then, I have traveled the world, accumulated very enriching experiences and yet deep down it has always remained the same: love for Christ and souls. These are the roses that I pray will strew the path of my priesthood.
Michael Mullan is 32 years old. He was born just outside of Philadelphia and moved soon after to Elkton, Maryland. The family has ten children, four of whom have consecrated their lives to God. He attended Salesianum High School in Wilmington, graduating in 1992. He was active in local theatres, won national and local chapter awards with the school in Model U.N., and was president of a local chapter of Explorers. He also founded a boy's club, still active in Delaware, that aims at the integral formation of youth. Michael joined the Legionaries after of high school. He has since then spent most his 14 formation years abroad: Germany, Spain and Italy. During studies he has achieved a Masters in Philosophy at the Pontifical Athaeneum Regina Apostolorum and is currently working on his Masters in Theology.