By Macklin Reid, Ridgefield Press (Dec 31, 2006).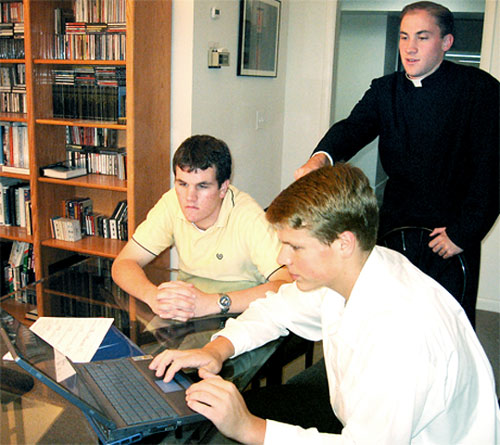 Dylan Fisher, left, fellow "co-worker" Greg Miller and Brother Andrew Dalton, work together running young men's sections of the Legionaries of Christ in high schools and colleges around Washington D.C., Maryland and northern Virginia.
Christmas has changed for Dylan Fisher.
"Last year was my first real Christian Christmas," he said. "My family, we always go to Mass on Christmas Eve. After Mass was over I kind of felt like Christmas was over, to a point where I didn't even care about the presents — not that I didn't appreciate them, but knowing in my heart that's not what Christmas is all about."

Becoming committed to and more serious about his Catholic faith has made Christmas more meaningful for Dylan.
"It makes the celebration itself 20 times bigger than it ever has been," he said. "It was a celebration that was God coming down to be with us, leaving his paradise, heaven, to go through what we go through in an effort to grow closer to us."

Like most of his fellow 2006 Ridgefield High School graduates, Dylan was home for the holidays when he spoke, a few days before Christmas, about his faith. He was on a break from a year's religious work that he has taken up before going to college, which he plans to do next fall. He's been in the Washington, D.C., area working with the Legionaries of Christ.
"They're a movement within the Catholic Church," he said. "This is the priestly movement. They have priests who are formed for 12 or 14 years in their seminaries — most movements are four to eight.
"They also have a movement, which is called Regnum Christi, which is full of lay people such as myself, and consecrated men and women.
"Our motto is 'Love Christ, serve others, build the church.'
"It's just another way to get the Gospel out there, get Christ out there to others who don't have him," Dylan said.

His work is with the young men's sections, high school and college students in Washington, D.C., Maryland and northern Virginia.
"We have youth groups in all these areas. We get together once a week, and have a Gospel reflection. It's called an Encounter with Christ," he said.
"We take a Gospel passage, reflected upon our own lives, and then also to what's going on out in the world — something we call a case study."
His favorite aspect of the job is working at Notre Dame Academy in Middleburgh, Va. The private high school was founded by nuns, but its operations were passed on to lay educators. The student body is 51% Roman Catholic and 49% other beliefs.
"It has a Catholic basis," Dylan said.

Campus ministry
He runs the campus ministry with a priest, Father Ned Brown, and a consecrated man named Tony Macdonnell.
"We kind of revamped it. We threw out last year's campus ministry and started over," he said. "We're trying to get the kids more involved in their faith. We have a core team of 25 students, from freshmen to seniors, trying to get the rest of the school involved.
"Right now we have a couple of community service activities going on, one of them being 'Adopt A Family.' "

The program serves families in a low-income housing project near the school.
"Each classroom adopted a family and there were about 30 families adopted, and each class went to the family to ask what they needed, like blankets and coats. And then they just did fund raising on their own, any way they could find to do it, to raise money to buy for the families, or even to get donations of the supplies they needed.
"Another one was, we're sending care packages to the troops in Iraq," he said.
The packages include goodies — a big request from the troops has been fudge — and letters from the students.

There's also a Christian Leadership Club that meets in the school every two weeks.
"That's open to the whole school, anybody who wants to come, and it's really a discussion group where we discuss the Gospel, current events, and controversial issues involved with the Catholic Church."
Connecting with kids
Dylan feels his age — or lack of it — helps him in his work with the high school kids.
"I'm 19. I just graduated out of high school in June," he said. "So, in a good sense, I know what these kids are going through, and it helps to connect to them better. I'm not really that far ahead of them."

Dylan Fisher grew up in Ridgefield — 16 of his 19 years — with his mom and dad, Shelly and Ira Joe Fisher, his brothers Joshua and Shelby, and sister Ashley. The family worshiped at St. Mary's.

His recommitment journey began with something of a crisis of faith.
"I'd dropped out of the Catholic Church my freshman year of high school. I didn't get confirmed in it," he said.

His doubts came from the difficulty reconciling the notion of an all-powerful, loving creator with an imperfect world, where bad things happen and people suffer.
"I didn't think that a God who existed, that was supposed to be so full of love for His children, would let these kind of things happen," he said.
He was led back, however.
"This cute girl, her mom needed help teaching religious ed. 'Yeah, of course!' " he said. "God works in funny ways."

He was similarly led to sign up for a religious retreat.
"The retreat was actually run by a man I know, that I've worked for in the past, Sean Forrest — he lives up in Columbia, Conn.
"He kind of opened my eyes to the faith and showed me that the way I was trying to live it, and saw it, was misguided," he said.
He came to a different understanding about life's difficulties.
"If you look at Christ's life, he didn't come down and throw a party for us," Dylan said. "He came down and suffered and died on the cross, because that's the way it had to be done.
"If it could have been done by throwing a party, I'm sure He would have done it that way. But in order for Him to redeem us, He had to suffer and in order for us to redeem ourselves, we have to carry our own cross and suffer as He did."

In February 2004, he had the confirmation he'd missed a year earlier.
"I was ready to say 'yes' to God, and God just kind of takes you on His own path of Calvary to help you get closer to Him," he said.
Becoming a committed Christian isn't something easy — and it may be harder for a teenager.
"I've had my hard times, dealing with friends and other people who don't understand why I am who I am, that have helped me grow closer to God," he said.
Legionaries
Dylan got involved with the Legionaries for Christ near the end of his senior year.
"I wanted to go into youth ministry and I was having trouble finding a college I wanted to go to, and I knew this program was available," he said. "I'd met with Legionaries priests and other people who'd done what I'm doing in the past.
"I kind of, in the back of my mind, didn't want to do it," he said. "...Then one day I offered up my day to God, as to what he wanted me to do during my year off after being a graduate from high school.
"And on the way to school I just felt a burning in my heart that this was what he was calling me to do for this year."

Over the summer, he trained at a Legionaries center in Thornwood, N.Y.

Now, he's living in Potomac, Md., in a community of 15 people who share a strong faith. "Priests, seminarians, consecrated men and other people like myself," he said. "My position is called 'co-worker'."
Evangelizing
He also helps with the Youth for the Third Millennium evangelizing effort.
"It's a lot of door-to-door where we just go out in a T-shirt and jeans, where it has YTM on the T-shirt," he said.

It's an experience. Not everyone's eager to listen.
"You tell them 'Hi, I'm from St. Joseph's down the road.' They just slam the door in your face," Dylan said.
"I think there's a lot of confusion about the Catholic Church."

Dylan Fisher, though, no longer feels confused. And he doesn't mind telling people.
"I enjoy evangelizing," he said. "If you look at the world today, I think a lot of people wonder why the world is going to hell.
"But if you look at it, they've taken God out of everything. They've taken Him out of the government, out of the schools — and that's why the world is so lost, in my opinion.
"So the thing I just get out of this is bringing Christ to the world."


This article was adapted from "RELIGION: Finding faith makes it all new for Ridgefield man" with permission from the Ridgefield Press.