Music is the most spiritual of the arts, and also the most versatile. No less versatile is the musical gift of the consecrated women of Regnum Christi.
Behold Your Mother, In His Presence, Making All Things New, and Cast the Nets make great gifts all year round, offering everything from traditional church hymns to original compositions with outstanding vocals and a professional, polished studio sound.
Music to Pray with
Behold Your Mother is a two-part Marian CD set. One CD is full of songs dedicated to Mary while the other is a recorded rosary led by the consecrated women— perfect for busy people who are looking for a way to boost their devotion to our Lady. Simply click on the titles to hear these songs: As I Kneel Before You, and Schubert's Ave Maria.
In His Presence is a CD of chapel songs, from Latin hymns like Franz Biebl's Ave Maria to more contemporary songs like The Summons and Prayer of Abandonment. This CD was recorded in the consecrated women's chapel in Greenville, Rhode Island, with all of the harmonies that make their Masses so rich and uplifting.
And Music to Play with
For those who are also looking for original Christian music with a mix of fast and slow songs both playful and serious, try Making All Things New. All of the professionally produced songs are original compositions by the consecrated women, including the lovely Fly, a song about letting Christ be our wings. Other songs on this CD include the title track, Making All Things New, inspired by the movie The Passion of the Christ. There is also the contagiously upbeat 2005 YFE theme song One Life, One Chance.
Cast the Nets offers another collection of Christian pop songs, including the energetic title track, Cast the Nets, originally a YFE theme song in 2003.
To order individual CDs:
Please contact Maritza Silva or Susan Girard at:
60 Austin Ave
Greenville, RI 02828
401-949-2820
msilva@inteducators.org
The CDs are also available for purchase in a special package deal: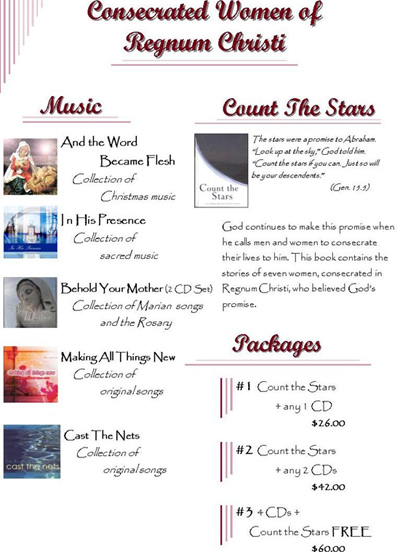 To purchase any book-CD combination, please mail in the following purchase form, or simply send a brief note with the essential information to the address given below. Send order forms to Maritza Silva at the address below: