The Legion of Christ was born in January of 1941 in México. In 1946, the first Legionaries arrived in Spain and in 1950 they established a formation center in Rome. In the 1960s they established themselves in Ireland and the United States. In the 1980s the congregation reached several more countries in South America and Central Europe. The Legion recently began pastoral projects in Eastern Europe and Philippines.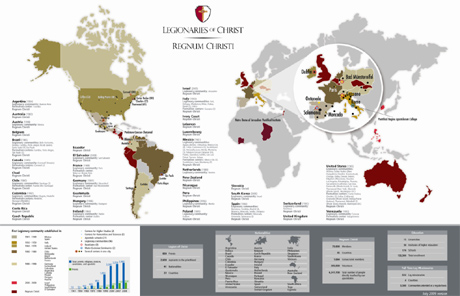 1936-1950

On January 3rd, 1941, a twenty-year-old seminarian and 13 minor seminarians founded the Legion of Christ in the donated basement of a house in Mexico City. Five years later (1946), the founder, now a priest, crossed the Atlantic with 32 young students to open their first center in Spain. In 1950, the present day General Directorate of the Legion of Christ was built in Rome, and the more advanced seminarians - including novices, philosophers, and theologians - moved there so they could live and continue their priestly formation near the Holy Father. Meanwhile, in Mexico and Spain there remained two apostolic schools (minor seminaries) full of young men aspiring to the priesthood.

1950-1960

The fifties ushered in the first major apostolic projects: the Cumbres Institute (a school) in Mexico City, the opening of a new center in Spain, the novitiate in Salamanca, and the construction of Our Lady of Guadalupe parish in Rome.

1960-1980

In the 1960s, while the Church was being renewed by Pope John XXIII with the opening of a great ecumenical council (Vatican II), the Legion of Christ opened two novitiates, one in Ireland and another in the United States. It also opened several schools and the first Universidad Anáhuac (Anahuac University) At the same time, the Regnum Christi Movement began and quickly took root in several cities throughout the seventies. This decade also saw the establishment of another important international organization, this one for the youth: ECYD (Education, Culture and Youth Development).

1980-2000

The eighties took the Legion and Regnum Christi into Central Europe, South America, and Australia. Throughout the nineties, significant steps were taken in Europe, in various apostolic projects, in the Regnum Christi sections, and in the area of vocations - a growth and consolidation that has continued to the present day. Now we find Legionaries and Regnum Christi members from an increasing variety of nationalities, from China to Germany, from Brazil to Canada, and from the Philippines to New Zealand.

Since the year 2000

In the past decade, the mission has brought the Legion to the Middle East and Asia. In 2004, Pope John Paul II entrusted the Legion of Christ with the direction and management of the Pontifical Institute of Notre Dame in Jerusalem. In 2006, the first centers for Legionaries were founded in Seoul (South Korea) and Manila (Philippines), and in 2008, the Legion opened its first houses in Hungary and El Salvador.