October 22, 2008. Irving, Texas. When local Dallas television station TXA 21 wanted to get a movie review on "The Express" from an audience that understood football, they turned to the Highlands Middle School football team. The students also had the chance to ask the actors questions about the experience of making the film. A video of the news segment can be viewed online at this link.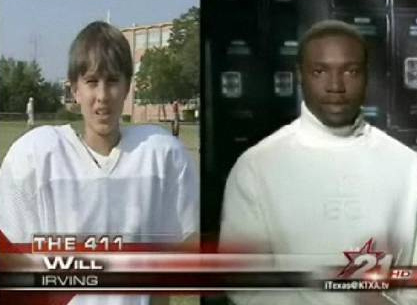 Highlands student Will Irving asks actor Rob Brown what it was like to hold the Heisman Trophy.
"The Express," starring Dennis Quaid and Rob Brown, tells the story of a football player named Ernie Davis, a two-time All-American running back for Syracuse University who not only excelled on the field, but also broke down racial barriers in the early 1960s. In 1961, Ernie Davis was the first black man to win the Heisman Trophy after leading his team to the national championship in 1960. He was set to play in the NFL for the Cleveland Browns, but he died of leukemia in 1963 at the age of 23 before his first game. The film was released in theaters nationwide on October 10, 2008.

The Highlands Middle School football team was given the opportunity for a special pre-screening of the film with Sandie
The Highlands Middle School football team was invited to a special "VIP screening" of the film.
Newton, of local Dallas station TXA 21.

"The undefeated Highlands Middle School football team knows a little something about football, so we treated the hardworking Blazers to a special VIP screening of the new film," says Sandie Newton in the news segment, which was aired on October 7.

After watching the film, the boys and their coach had the opportunity to ask actors Rob Brown, Dennis Quaid, and Omar Benson Miller about their own experiences playing football and acting the part on film. Their questions and the actors' answers are included in the televised news segment, which can be viewed here.

The Highlands School, located in Irving, Texas, implements the integral formation program developed by the Legionaries of Christ and Regnum Christi for students from Pre-K to grade12.