Women as Key to Humanity
| | |
| --- | --- |
| U. S. A. | APOSTOLATE | NEWS | |
Intensive summer course introduces women to a feminism that honors woman's unique nature.
The course will be held in picturesque Cazenovia, in upstate New York.
May 19, 2011. Cazenovia, NY. This summer, AVOW (Advocating the Vocation of Women) will be partnering with the Pontifical Regina Apostolorum College to offer an intensive women's studies course entitled "Women as Key to Humanity." The course, now in its second year, will run from June 14-23 in Cazenovia, New York, just southeast of Syracuse. Last year, the course was held at the Regina Apostolorum in Rome.

Karen Stein, the director of the AVOW International Center, said, "The course is what I like to call the 'real deal' of women's studies. It teaches the beauty of what it means to be a woman."

She commented that one of the goals of the course is to validate women's sense of identity and calling—highlighting the importance of the calling to be a wife and mother, but also providing insights on woman's important role in the shaping of society.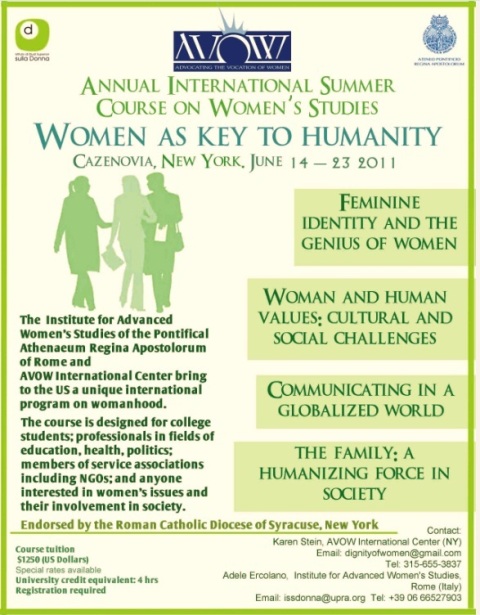 For more information on the course, click on the flyer link below.l
/>
One of the ideas Stein hopes women will take away from the conference is "a deeper understanding and appreciation of their dignity and role in society" as well as the necessary tools to respond to the demands placed on them today.
The four main seminars in the 10-day course are:
• Feminine Genius and the Identity of Women
• Women, Values, and Social Challenges
• Communicating in a Globalized World
• The Family: A Humanizing Force in Society
Participants in the summer courses of 2010 and/or 2011 have three options for credits: 1) audit the course for personal interest, 2) undergraduate students can receive up to 4 credits with approval of the college in which they are enrolled, or 3) apply hours to the Master's degree postgraduate program of Advanced Women´s Studies. Requirements for the Master's, such as exams or papers, will be initiated next summer.
Details about costs and special rates are available in the informational flyer and in the registration form.

For more information, contact Karen Stein at 315-655-3837.