I Know that God is Good
| | |
| --- | --- |
| U. S. A. | RESOURCES | TESTIMONIES-LEGIONARIES | |
Fr Timothy Lyons, LC (United States)
Ithink that God has spoken directly to my soul only two or three times in my life, with the kind of certainty that I know for sure it was the Lord speaking. It occurred for the first time when I was about 17, watching TV. An admiral of the U.S. Navy was stepping off a plane, and I thought, "It would be awesome to be him. I should join the military." Then, instantly, a flash came, an epiphany: "But he's not a priest. He cannot celebrate Mass." It was so sudden and clear I actually laughed out loud, and said, "Lord, that was not fair!"


Early Memories


I was born in Denver, Colorado in 1977. Before I could remember, my father and mother packed my four brothers and sisters and me into our Volkswagen van and headed for Portland, Maine, where I grew up. My family has always given me the sense that God had his hand on my shoulder. Memories of my childhood include a lot of little things like baseball, Catholic schooling,


working in the family business, cross country trips packed in a station wagon, bike riding, snowfall five months out of the year, moments on the Atlantic Ocean, fighting with brothers and sisters, and even occasionally running away from home (only for a few minutes at the most). Despite the teasing that comes with being the youngest, I was always thankful for every one of my siblings. To make things even better, while I was still growing up, my older sisters found boyfriends they later married, who became like extra brothers to me. As a child, when people like the nuns who taught us would say, "God is good," I can honestly remember thinking, "I know he is good." My parents are very good-hearted and generous people. They grew up on farms, and in families strongly and deeply rooted in faith and values. They kept their priorities straight at home: God, family, education, the pro-life movement, and helping those around us as much as possible. To this day my parents work very hard and touch many lives in their own quiet way, much more than they are likely aware.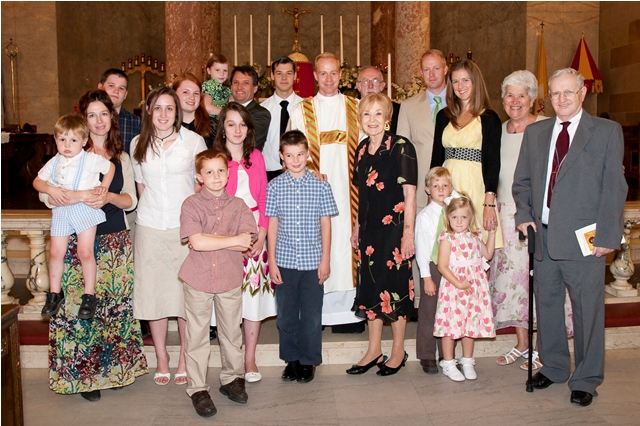 />
When I was five, my father started a small dry cleaning and laundry business: it was not always fun, but none of the children has ever been without food, or work for that matter. Father always took a special interest in helping his employees and customers learn something about the Faith, and early on he decided to go against the pressure to open his business on Sundays. My mother was always around the house to care for us. I remember asking her questions about God, starting from when I was about seven, and she answered like someone who knew God on a very personal level.
That Red-headed Boy is Going to Be Priest
My brother Dave and I walked to St. Patrick School every day, and there I think my vocation began, simply by coming to know very good priests and nuns. When I was eleven, I began serving Masses for Fr Ansaloni, a great Franciscan priest. Every once in a while, I heard voices—little old ladies, in their eighties I think—whispering loud enough to be heard throughout the church, "That red-headed boy is going to be priest." These comments annoyed me a lot, because I did not think it would be "cool" to be a priest, but naturally it started me thinking that maybe they were right. No one else really brought up the issue with me.


Our parents spared no sacrifices to send us to Catholic schools, so that we would learn our faith and have good friends. The Sisters of Charity taught me when I was young and were always happy examples of the religious vocation. As teenagers, our father would drive us every Sunday to Massachusetts to a private Catholic school called the Trivium, where we would board during the week. My oldest sister went on pilgrimage to Fatima, Portugal, after she graduated from high school, and she came back with a small statue of the Blessed Mother. From about this point on, if we were home around 9:00 P.M., my father would summon us all to pray the Rosary together. Because of this, Mary's presence was truly palpable in our home, and I am certain that I owe my vocation to her care.


A Blizzard of Graces


A cousin of mine discerned his vocation to the Legionaries of Christ, and I visited him once in the seminary. He looked very happy, and I admired his generosity and goodness. However, for me at the time, I had my heart and mind set on being a family man and starting a business one day.


In the mean time, other Legionary priests and brothers occasionally visited my high school, and they were chaplains of a sort to a little group my friends had formed. Once a month, the group did outreach such as visiting a nursing home, and periodically I would also go. I was always impressed by the Legionaries, especially because they were always optimistic and seemed very happy in their vocations. This was rubbing off on my friends. One day I made a joke about a classmate, and the leader in the group did not laugh. When I asked him why he did not laugh, he simply said, "It wasn't nice." It was one little moment among many others that sounded an alarm in my conscience. God was calling me out of an adolescent type of faith. It was time for me to get beyond the "just don't lose your soul" stage.


The first step toward my vocation was Jesus presenting me with two options: I could continue being a believer, while drifting along pursuing my own interests, wasting a lot of time and energy on myself and being rather dissatisfied, or else, I could let Christ change me the way he was changing the others I knew, and start putting the Gospel into practice on a daily basis, not just on Sundays. This would mean using my time better, giving up some bad music, speaking well of others, being a better friend to others, and a better student. My family, of course, had already set this kind of tone, but God used my experience with other priests, friends, and the Legionaries to confirm it. I do not think when I was 16 or so I really responded well to Christ's invitation, but thankfully he did not stop inviting me, and I always stayed close to him in the sacraments.


After graduating from high school, a couple of these friends went away to volunteer in Legionary schools. The same one I just mentioned invited me


to visit the seminary with him for the Solemnity of the Immaculate Conception. We got stuck there during a blizzard, and during the extra day I was really struck by everything I saw: young men enthusiastic about serving the Church, devoted to the Eucharist. They played sports very hard and put their hearts into everything they did. I went home and told my brother-in-law it was great to visit the Legionary seminary. He asked, "Are you going to join the seminary?" "No, not me," I said, and at the time, meant it sincerely.


Why Not Try the Seminary Now?


I went to college at Franciscan University of Steubenville. A Legionary priest came occasionally to offer direction to a group of us who belonged to the Regnum Christi Movement. He was an excellent preacher and confessor, and he seemed to love saying Mass and working with college students. He never insinuated to me anything about a vocation—his advice was always on how to be a good Catholic student—but seeing his example certainly made me think about it. One day, I went to the library to write a research paper. While I was browsing, I came upon a book called the Biography of St. John Vianney. It was the only book on the shelf that was not an inch thick, so it jumped out at me. I read it, closed it, and as if some other spirit were working in me, I went to the chapel, and said, "Lord, if you want to, make me a priest." I felt he heard my prayer. I was certainly not sure where all of this was going.


The thought of marrying and having a family did not stop being attractive, but it seemed to me that if God wanted to call me to a supernatural vocation, he would have to give me some kind of extraordinary sign. The spring semester began. I was really in no hurry to take the next step and discern, but I wrote a postcard to a diocesan seminary. I never got a reply back and took this as a sign to keep other options open. Still, thanks to daily contact with the priests, companions, and teachers, as well as the Eucharistic chapel, I was drawing closer to God. One night, I remember two good friends and I talking a while about who we each wanted to marry, each totally oblivious to what God was planning. Ironically, just a few short years later we would be studying for the priesthood together in Rome. As good as marriage can be, Christ was calling us to follow him in a more radical way. What an honor!


My freshman year ended, and I took a friend's good example and signed up to give a year in the Legion's volunteer program. In July, I left home to be a college missionary. I loved the experience of going door-to-door with others in New York City, inviting Catholics back to church. One day someone asked me: "Do you think God might be calling you?" I said yes, that this was on my mind for later. He then said, "If you think God could be calling you, why not try out the seminary now? Don't you think God would bless you for trying?" It was a second case of that same epiphany in my soul, on the feast of the Queenship of Mary. The following day was my 20th birthday. I signed up for the summer discernment program in Connecticut. It was not an easy decision, but I am certainly happy God gave me the grace to make it. I am convinced that God would still love me and bless me, even if I had chosen a different path. However, I feel that the priesthood is precisely the kind of life he has made me to have, and where I personally can serve him best. Nothing could ever be better than God's will.


It Is Not up to You; It Is up to Him


My thirteen years of preparation for the priesthood have been challenging and at times difficult, but always happy. I remember once being in a period when I thought I might not be called, because I was not good enough. This time, I really believe it was Mary's voice I heard in my soul, a single word that was sudden, firm, and very sweet: "Relax. Jesus wants you to be a priest even more than you do. It's not really up to you; it is up to him."


All these years in training used to seem as if they would never end, but now I can look back, grateful that I have been able to experience so much to help me mature in my faith and character. Besides the sacramental life we enjoy, probably the greatest experiences and blessings have been getting to meet truly inspiring people on a daily basis: other religious, lay people, and diocesan clergy. Thanks be to God for my parents, my brothers and sisters, for all the great priests I have known, and for my teachers and for my many "brothers" in the Legion of Christ who have discerned God's will with me in different stages along the way. Thanks to our friends and benefactors, the Regnum Christi members who have inspired me and helped me persevere, and the millions of people who pray for vocations every day. That I am here as priest today is all in some way because of each of you.
FR TIMOTHY JOHN LYONS was born in Denver, Colorado, on August 23, 1977. He grew up in Portland, Maine, but went to high school in Massachusetts. He attended Franciscan University of Steubenville for one year, before joining the novitiate of the Legionaries of Christ in the summer of 1997. As a Legionary he completed studies in Connecticut, New York, and Rome. He earned licentiate in philosophy and a bachelor's degree in theology. He has also spent five years helping at schools and youth programs in San Jose and Sacramento, California. He has four older brothers and sisters and nineteen nieces and nephews.

The vocation stories of the Legionaries of Christ who were ordained in 2010 have been published in the book "
From the Heart of Christ
."
FECHA DE PUBLICACIÓN: 2010-12-23