Many Faces and Forms of Service in Challenge
30 different Challenge club leaders contributed to this article through the annual survey.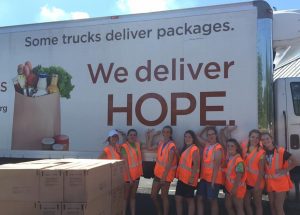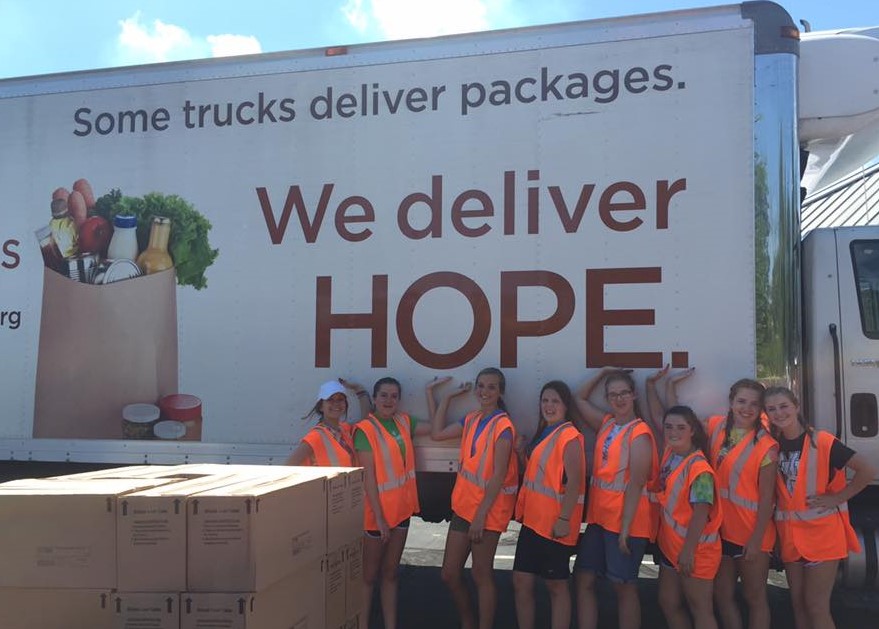 One of the aspects about Challenge that makes it a really dynamic program for youth ministry is the service projects. The team leader guidebooks and online resources offer ideas to get those apostolic wheels turning, but the girls and leaders come up with the most creative ways to reach out and help those in need. Recently we did a survey to the adult leaders to see what improvements they would like for the upcoming year and to gather feedback. One of the questions was "What is the best service project you have done this year with the Challenge group?" We thought it would be inspiring to see the answers and the many faces and forms of service.
"Volunteering wrapping presents and getting them ready for delivery to people in need." –Colleen in MA
"Catholic Charities has a program for needy mothers. They watch dvd's and earn coins to spend in the baby shop. Our girls made baby blankets, sugar scrubs, cookies, games for the other children they have and then served them a meal of pulled pork, coleslaw and baked beans. Because they got to hold the babies it was the girls favorite. They earned the money by hosting a bake sale." – Margaret in TN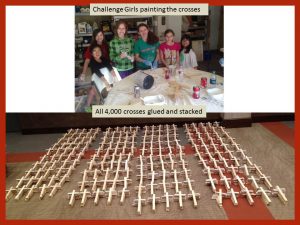 "Every year we put on a Priest Appreciation Dinner. We invite all the priests in the diocese (and the Bishop) and our families and we have a potluck dinner, sing them songs, make them thank yous and get to know our priests. Everyone really enjoys this event. Getting all the families together and inviting all priests from all across our dioceses for a potluck supper, entertainment and visiting." – Katrina and Mikayla
"The younger teams prepared a Valentine's Day party for residents at a nursing home complete with crafts, Valentines, goodies (all made themselves beforehand) and a performance of "oldies" songs about love."- Emily in GA
"We assemble bags of lunches for the homeless in our community, and made hot chocolate to hand out with the lunches downtown." – Robyn in OK
"We made Valentine cards and the girls took them to Christ Haven which has several homes that take care of children who don't have parents. We play Bingo with them and have a Valentines party. Everyone has a blast!!" – Michelle in TX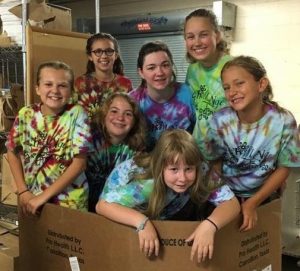 "The girls had a lot of fun making Easter baskets (buckets) for some families that our local St. Vincent de Paul supports. We got the ages of the children and filled the baskets with bubbles, sidewalk chalk, lip gloss, hot wheels, etc. along with some fun snacks and a hand decorated resurrection card. St. Vincent delivered them. The families were so appreciative!"- Mary in LA
"This past April/May we decided to look inward and found a need within our own group. One of our girl's mom was diagnosed with breast cancer and was having a rough time keeping up with household things. We decided to help their family by planting flower and gardening projects they were trying to complete, but couldn't because of time and financial resources being short. " – Crystal in KY
"Singing carols at the nursing home. The girls love to sing and we chose several Advent/Christmas songs, but by the end we were taking requests, involved everyone in a sing a long, and ended with 'Oh when the Saints go marching in' and 'God bless America'! We received such a joyful response from the residents, and the Challenge girls were amazing!"- Jane in OH
"Our 7th grade just recently visited members within our Parish that are homebound. They provided them with company and enjoyed visiting. Our Parishioners just LOVED it and our girls did as well!" – Dana in KY
"We made baby blankets for a local pregnancy center. The girls got to choose their fabric and create the blanket. They knew they were going to babies/toddlers whose moms were being assisted through pregnancy and beyond. " – Cathy
"The girls really enjoyed making flower hair clips for an orphanage in Mexico." – Nancy in TX
"Throwing a party at a community home for developmentally challenged adults."- Susan in NJ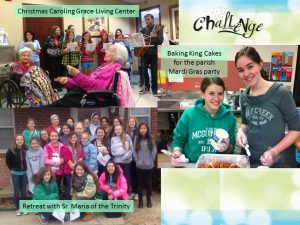 "We hosted an All Saints Day party for the K4J kids in our parish. It was so exciting for all the children to be talking about their favorite saints and their desire to learn even more about the different saints."- Megan in AB
"The club made fleece blankets for a men's homeless shelter. The girls made about 25 blankets. The shelter kept them for when men came to stay overnight. The blankets were like a piece of home for them." – Laura in IL
"We did an All Halloween Eve Party at a Retirement Center. We had a saint parade, helped residents make sympathy cards for friends who lost loved ones, we did a memorial balloon release, had singers the entire time, cookies and lemonade, and had guests sign a what you are thankful pumpkin to leave in their lobby." – Stephanie and Alicia in OK
"Visiting the diocesan nursing home. The girls went in groups of 3 with an adult and visiting with the residents in the assisted care living. The girls gave a homemade Christmas card, signed by the girls and sang a Christmas carol. Then after visiting the rooms, all the girls performed a Christmas dance to "Jingle Bell Rock" to the residents in the activity room. They also sang Christmas Carols." – Carrie in TX
This article was originally posted on the Challenge Catholic Youth Ministry website and written by Nadine McMillan.